FAQ Summer Camp 2021
Read below the latest news and updates abouto our Summer Camp 2021!
Summer Camp
Camp All Saints had a Summer Camp program for years. Will it have one in 2021?
---
Yes! While the summer of 2020 did not see a Summer Camp program held, efforts have been made to hold one in the summer of 2021. As a result, there is a plan to use your property to have a Summer Camp experience for all EDOD churches.
---
Will Summer Camp in 2021 be different than previous years?
---
Yes and no.
---
Ok. Well, what will be staying the same?
---
The plan is to offer as many of the Summer Camp activities and experiences from previous years as possible. Your Camp staff will do it's best to have a 'typical' Summer Camp week of activities and events. These include: swimming, boating, fishing, archery, high ropes course, low ropes course, mountain biking, hikes, campfires, fantastic meals, etc. All of these activities will be facilitated by your Camp staff.
---
Awesome! What will be different?
---
It will be very different in two ways: who will serve as cabin counselors and how campers sign up for a week at Camp.

Your Camp had to staff differently this year due to a variety of factors. This means that the Camp Staff will not be able to hire and train cabin counselors this year. Instead, the Diocese is asking churches to send along adults with their students. Adults should be background checked and Safe Church trained. While this is a huge ask, it is also a necessary one.

In addition, the sign up for a week at Camp will be as a group of campers via our churches. Each camper should sign up with their church. That church then contacts the Camp Office to book beds in a cabin side.
---
So what is expected of a Cabin Counselor?
---
Cabin Counselors will be watching after your campers at all times. This includes sleeping in the same cabin (in a separate room) as well as accompanying them to all of the activities throughout the day. Cabin counselors are expected to handle all of the care for their campers including behavior expectations, any necessary medications for the camper, etc.
---
Will there be any help at all from the Camp staff?
---
Yes! There will be a Camp Nurse and there will be staff to facilitate each activity. So while the primary care of the camper is with their counselors from their church, the Camp will make sure there is staff in place to facilitate the different Camp events (waterfront, high ropes, archery, etc.) as well as to help and/or offer suggestions with any issues that might arise.
---
Ok. So this is the plan for 2021. When are the weeks of Summer Camp?
---
The first two weeks of Summer Camp 2021 are June 13-18 and June 20-25. These two weeks are intended to be used under the plan above, specifically serving the Jr. and Sr. High age groups (grades 6-12).
A third week, June 27-July 1, can be used by churches as well but is intended to be a "Family Camp" week. The idea is that this is a week that families can come up and use their Camp, booking directly with the Camp Office, taking the burden for sign ups off of our churches. This week of Family Camp is a good way to have our younger campers (grades 3-5) be a part of their Camp!
---
How much is Summer Camp this summer?
---
Because we are using a "register through your church" model, the pricing is not per camper but instead is per cabin side. A cabin side holds 12 campers and two adults. Therefore, churches that are bringing both boys and girls will need 2 cabin sides - one for boys with male counselors and one for girls with female counselors. The cost for a cabin side is $3700.00 for the 5 night, 6 day week, or $7400.00 for two cabin sides. It is important to note that this includes all activities and food for the week. Dividing the total cost by the number of beds, the price per bed is just over $300.00. This figure is well below the price of most camps and is intended to help your Camp cover costs for the Summer Camp week.
---
My church does have campers, but not 12! What can we do?
---
With all of the challenges that face our Diocese, it is understood that while it is a good deal on paper at just over $300 per bed, in practice it will be difficult for most of our churches to fill two cabin sides. Therefore, we are encouraging churches to partner together to fill as many beds as possible in their cabin side. Additionally, partnering with other churches may reduce the burden in terms of the number of counselors a single church must provide.
---
How do I find other churches to partner with on cabin sides?
---
Churches are encouraged to reach out to the other churches that they may have already partnered with and/or are close to them geographically. Additionally, churches are encouraged to call the Camp Office to express their interest in coming to use their Camp this summer with an estimated number of campers and their desired week. The Camp Office will then work to suggest other churches that have called in to try and connect churches together.
---
Can't the Camp Office just put interested churches together?
---
Given that this is a week of spending 24 hours together, it is important that our churches retain the role of finding churches that they can share time with for their week. This becomes clearer when factors like age of the campers (ex. Jr. High or Sr. High), activity expectations (ex. we want to do every activity vs. we want to have small group time) and behavior expectations (ex. yes to cell phones vs. no cell phones except for adults) are considered.
---
Who do I contact at the Camp Office to ask questions and to book sides?
---
Sandi at the Camp Office and Julian Borda will be working together. Julian is a seminarian that has recently graduated (congratulations!) and has experience with Summer Camp. He has been asked to assist Sandi in making this new process run as smoothly as possible. Your Camp Office will do their best to connect churches together and help make this Summer Camp a fantastic week for everyone!
---
These are big changes. Why are they necessary? Are they permanent?
---
Your Camp, like most of our churches, has had some significant challenges to overcome from both budget and COVID related changes. Specifically, your Camp must operate under the guidelines from the State of Texas that all Camps must follow. Also, your Camp is now operating on a "cash in, cash out" basis; if the Camp does not get money coming in, it simply cannot have money going out. As a result of all of these factors, staffing for the way your Camp has operated in the past was not possible. The Camp Staff and Camp Board are hoping that these changes are short term. If our churches have a successful Summer Camp this year under these different staffing and sign up solutions, then this summer of 2021 will serve as a stepping stone to 2022. The goal is that together we can take the steps necessary to once again have the Summer Camp experience in 2022 of trained counselors and camper registration with the Camp Office combined with a renewed emphasis on relationships with all of the churches in the EDOD.
---
My campers are worried things will look very different this year. Are any of the traditions of Summer Camp still going to be the same?
---
Yes! Your Camp Staff and Board are working hard to make sure that with all of these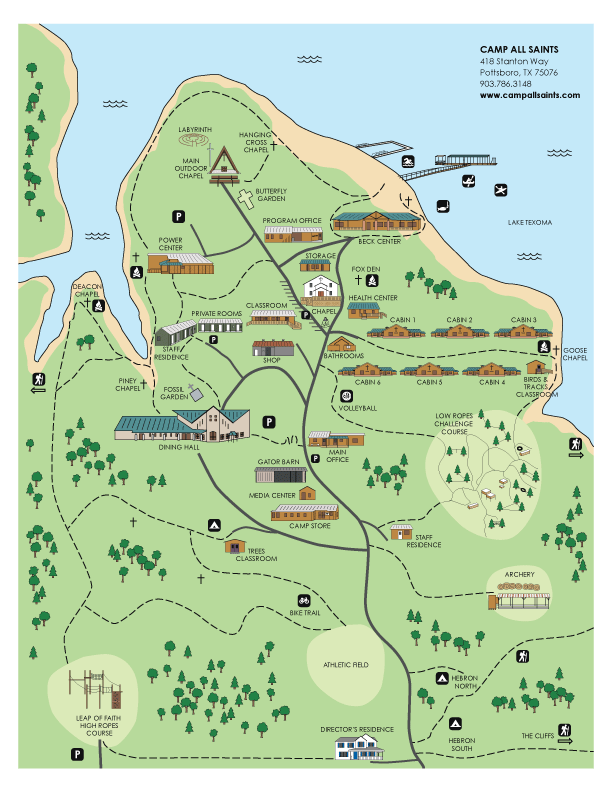 changes, the fun traditions of Camp stay as close as possible to previous years. Different clothes themes for dinner? Yes! Cabin circle in the morning? Yes! Talent show? Why not! Fun story times and corny jokes during the day? You got it! Water parties? Absolutely!
---
What steps is my Camp taking to address COVID-19?
---
All of the main buildings will be cleaned/wiped between uses (ex. the Chapel, Dining Hall, Beck Center) and the Camp Staff will help enforce polices regarding temperature checks, the wearing of masks, hand sanitizer use, and maintaining social distancing. Once campers arrive and are with everyone in their cabin side, they will do all of their activities with that group. At any "All Camp" events such as worship, a campfire or meals, Cabin Sides will be spaced from one another. These polices will be updated in order to stay consistent with the the regulations from our Diocese, the State of Texas, and recommendations from the CDC as needed. If you have any questions, concerns or suggestions about this, please contact the Camp Office.
---
Is Summer Camp the only time my church can use our Diocesan Camp?
---
No! Churches are encouraged to make use of this beautiful asset that the LORD has given us! Churches in the EDOD have used this property as a place for service projects, the place to stay while on a local mission trip, Vestry retreats, Spiritual renewal weekends, a fun day of waterfront and activities for families, Confirmation retreats, youth group events, and more! Your Camp Staff has a lot of ideas and is very creative in helping to make your vision for a time away for your church become a reality. Please reach out to see how you can make the best of this special place!
---
I'm interested in supporting our Camp. How can I get started?
---
Prayer is always a needed thing; there is power in prayer and the more prayers for how to best use our Camp, the better! Second, contacting our Camp Office to let them know how best they can serve you is very helpful. The more details your Camp Staff and Board can get about what is most needed by our churches, the better! Determining what would work best for your church (is it a retreat, a service project, a place to have fun for a day, Summer Camp in 2021!?) will go a long way to seeing if we can, as a Diocese, fully utilize these 600+ acres! Finally - and you knew this was coming - any and all financial contributions to support the Camps' operation (specifically helping campers pay for their Summer Camp) are very helpful.
---
Where can I find out more about my Camp and how to get in contact with the Camp Office?
---
The Facebook page for your Camp (facebook.com/CampAllSaints) is a great place to start for all of the above! In addition, your Camp's website (campallsaints.com) is currently being updated and will soon be a great place to find all of the details on the different facilities and programs that are available.
---
---